"I thought "surely, I can't be the only one feeling so alone during this time of year." That's when it came to me. Why not organise an event with the Unite Foundation to offer other students including myself a safe place to go for Christmas knowing that they won't be alone?"
I was the same. I had absolutely no clue where to begin or really what I was doing at first but then I read the guidance document, chatted to some other students and accessed support from the Unite Foundation. Within a few weeks I managed to put my idea into action. Now that I've done it and learned what was great and what I could do better, I thought it'd be great to share with you how to organise your own event. It's not so scary after all!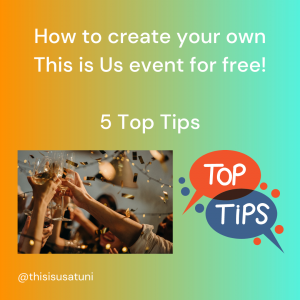 The idea
The best place to start is looking at what you want to achieve. Don't think too much about the how because that will come at a later stage. What is your idea? Like what do you feel other people would enjoy?
My initial idea came to me whilst I was sitting in a coffee shop with my friends. They were all discussing their plans for Christmas and talking about their families. I thought "surely, I can't be the only one feeling so alone during this time of year." That's when it came to me. Why not organise an event in the This Is Us community with the This Unite Foundation's help to offer other students (including myself) a safe place to go for Christmas knowing that they won't be alone?
Ask yourself the reason why you'd like to run an event. There can be many reasons, for example, meeting new friends, fighting boredom, trying a new hobby, or simply wanting to do something nice for others.
There is no right reason to organise an event. If you have an idea and a passion, then you're well on the way to running it.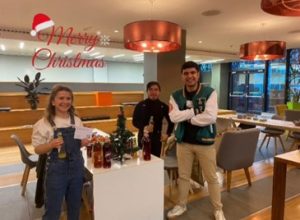 (Photo: Here's three of us setting up the London Festive gathering!)
How to do it?
If you are anything like me, you will be thinking about all the things that could possibly go wrong. What if nobody comes to my event? Will I look like a failure? Where on earth do, I even start?
The simple answer is that it is easier than you think. You are never left alone or overwhelmed by the process. If you haven't already spoken to them, I will introduce you to the fantastic Ira from the Unite Foundation team. They supported me all the way with any questions or concerns and helped me sort out costs, advertising and logistics for the event.
Step 1: write down your idea and brainstorm the following:
What is my event idea?
How many people would I like to see?
How long will the event be?
Which date (approx.)?
If I need food and drinks, what would I like and how much do I need for the people who are coming?
Is there anything else I need to consider e.g. travel and clothing?
Step 2: once you have completed the initial brainstorm, you are already half-way there. All you need to do now is work out approximately how much each part of your event will cost. You can break it down and list the different expenditures by category.
Step 3: go on to the 'Meetup: Create your own This Is Us community (TIUC) fun!' section online This is our community  and complete the short form. If you have any questions, you can email Ira Ira.Hakim@unitefoundation.org.uk and they will be happy to discuss any ideas you may have.
Step 4: advertise your event in the This Is Us community (on Mighty Networks), Ira will create an Eventbrite event for you and you can ask the This Is Us social media team (all students!) to create an advert post which will go on Instagram and Twitter.
Step 5: have fun and enjoy the event you organised!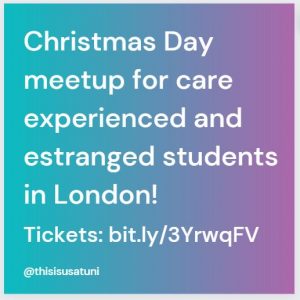 Location, Location, Location…
I ran my event in Drapery Place, a Unite Students building in London, but you can hold your event in any venue that works for you. Other students have already held This Is Us community events at bowling alleys, online, in restaurants/cafes, in their Student Unions or at their unis, etc. Unite Students actually gave us the space for free and even covered the drinks, snacks and games which was amazing (and a really nice surprise). So that's always an option too.
The Christmas-Day Meet-up in London (my example)
If you are in London on Christmas Day, we'd like to invite you along to our cosy, free event at Drapery Place for any care experienced and estranged students.
Sunday 25th December 2022, 12-4pm – stay for as long as you like
An afternoon of board and card games, yummy snacks + pizza and good new friends
Any questions, drop Lisa a message in the This Is Us community
Things I'd change next time
I have no regrets whatsoever with my casual Christmas Meet-up in London. It was such a good afternoon. However, one thing I'd definitely do next time is check public transport connections for the day of the event to make sure everyone who wants to attend can get there easily (Christmas Day doesn't have many transport options…)
I'd also spend less time worrying about what could go wrong because the likelihood of that happening is very low and ultimately the fact that you gave it a go and put in the effort is a success! Plus, there are plenty of people who will support you too – other students in the community and the Unite Foundation.
Author: Lisa from the This Is Us community