Hi, I'm Kez and here I'm going to chat about running my Christmas Eve meetup idea in Newcastle and how I got there…
My initial idea
I had been talking to my Student's Union and my University for a little while and I felt like there was a lack of support for care experienced/estranged students. I know from my own experience that Christmas can be quite an isolating period. I wanted to do something to try and help other students in my position feel less alone.
It was actually the Initial Contact for Estranged students at my university who helpfully signposted me to the Unite Foundation and the new This Is Us community, and from there it just completely took off! I began by bouncing ideas for a meetup off various friends, colleagues, and Ira from the Unite Foundation team. We talked about what sort of event people might feel comfortable to attend that would allow us to connect but not feel like we had to force conversation. Something light-hearted and fun but also accessible and not too much effort to get ready for.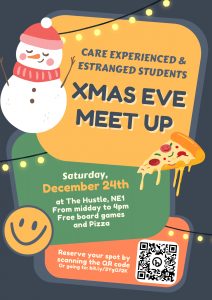 What? How? When?
I think one of my biggest concerns when planning an event was the funding – I had no idea how it would work. I arranged a meeting with Ira, the community manager at the Unite Foundation, who helped to explain the range of resources.
Turns out there is quite a bit they can provide to help out students who want to run event and you just need to ask. I used funding, their Eventbrite for tickets, advertising help on their social media and their network of local unis and colleges. I created the flyer we used to advertise the event. In the end, the Unite Foundation pre-covered the cost of a special custom pizza and soft drinks package for everyone attending at the Hustle N1, our venue, and they also bought the games for us to play that I requested. Hustle even made a cute little sign for us on the day.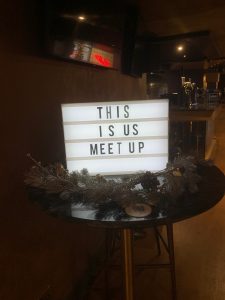 Running the event was a rollercoaster of emotions!
This was the first event that I had ever run independently, so understandably – there were a lot of nerves involved. My biggest worry was that I did not know how to find funding – spoiler alert: it was not so hard!  Ira guided me through a breakdown of what the Foundation could support me with and it was as simple as explaining to them what I needed and why. My other concern was that nobody would reserve a ticket, so it was a massive relief in the run-up to the event to see how fast the tickets were sold. I was also nervous on the day itself. How would it all pan out?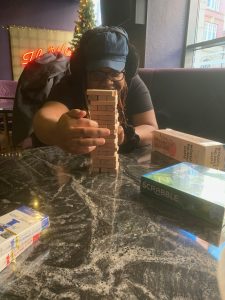 In total 18 places were reserved on Eventbrite. Not all 18 made it but we still had a great turn out and I think that the overall event was a real success! A piece of learning for me is thinking about when to hold events in future, with the train strikes etc, there were some issues with traveling on Christmas Eve so that stopped some people from coming. It was nice to spend a day, especially at a time of year that can be very isolating, surrounded by people from similar backgrounds.  I also think the number of free tickets that were 'bought' showed how many other students were in a similar position to me and it was really nice to feel like we were part of a community!
Apart from nerves, I really enjoyed most of the planning and organising. My favourite part was promoting the event. It was amazing to see the flyer I made circulating on social media and around campus – that was when it really started to feel real!
A few more reflections…
I learnt a lot while running this event, and it has given me plenty of things to work on for next time. I planned this entire event in around 3 weeks, with Christmas approaching there was a very fixed timescale which meant that I had to rush through the process slightly and I think that I would have enjoyed it all more if I had a little longer to plan and organise. This would also make finding a venue easier as I found this quite hard (but still possible) at such short notice in the festive period! Also, not everyone will want to be photographed, so make sure you ask first before taking photos.
Finally, here are my top tips for running an event
Just go for it! You don't need to be an event planning expert. I was completely new to this
Find a location and the rest is all fun and games – quite literally for us haha
Don't be put off if venues or people don't reply instantly to your emails, it's purely because they have a high volume of emails to get through and not because your idea isn't time worthy. Don't let it put you off.
If you don't ask, you don't get: you have nothing to lose by asking people/organisations for some extra support.
People will support you; you're not doing it completely alone.
The This is Us community is a great source of support for everyone, I was also was lucky to find that my friends were my biggest cheerleaders throughout and my contacts at the university also did everything they could to help. Please break the ice and reach out to other people in the community – both for help to run events and just to make new friends.
Author: Kez from the This Is Us community